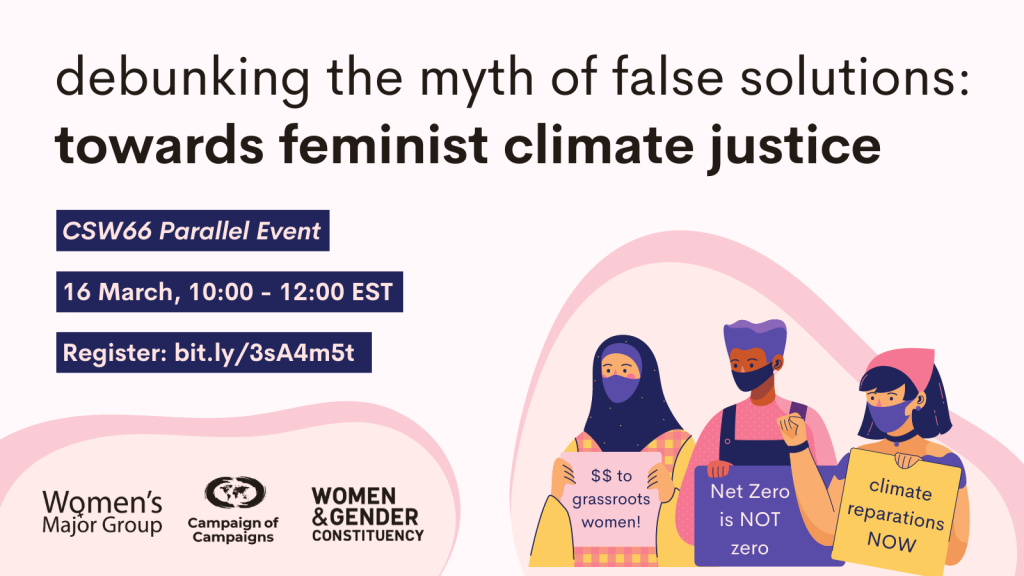 The Women's Major Group, Campaign of Campaigns and the Women and Gender Constituency proudly present our CSW66 parallel event: "Debunking the Myth of False Solutions, Towards Feminist Climate Justice"
Gender inequality and the climate crisis are deeply intertwined. Women, girls, non-binary and gender-expansive people are not only disproportionately affected by the climate crises, they are also leading radical movements for climate justice and working at the forefront of the response, many times by themselves, without the support of those in power. In this event, we'll explore the false, dominant narratives presented to us by those in power as solutions, which, if implemented, would only exacerbate deep injustices and human rights violations. We'll also hear from feminists about what real solutions look like and how activists on the ground are already putting these to work.
Our speakers at the event are Melania Chiponda, Taily Terena, Simone Loveira/Coraina de la Plaza, Wanun Permpibul, Neth Dano, Panganga, Kavita Naidu, Tetet Lauron and Mishy Singano. Moderation and Support: Sehnaz Kyimaz, Pat Bohland and Andrea Vega Troncoso
Date March 16th, 10:00 -12:00 EST
Registration still possible (also during the event): bit.ly/3sA4m5t
Interpretation into Spanish and French available.