The Women and Gender Constituency, along with other women, gender, and human rights advocates, has been actively pushing world leaders to ensure just and equitable climate policies that put respect of people's rights and the integrity of the planet first, while responding to injustice among and within countries in relation to climate impacts and resilience.
We know the solutions to a more sustainable future already exist – and it is time to showcase them far and wide, and demand change! 
Since 2015 and the Paris Agreement, the Gender Just Climate Solutions program aims at showcasing, amplifying and scaling gender-responsive transformative climate initiatives. These locally-driven solutions promote democracy, making gender equality and women's rights central to just climate action.

All the solutions are displayed in this database, where they can be sorted by year and countries. Get inspired by more than 150 solutions shwoing that a different world is possible.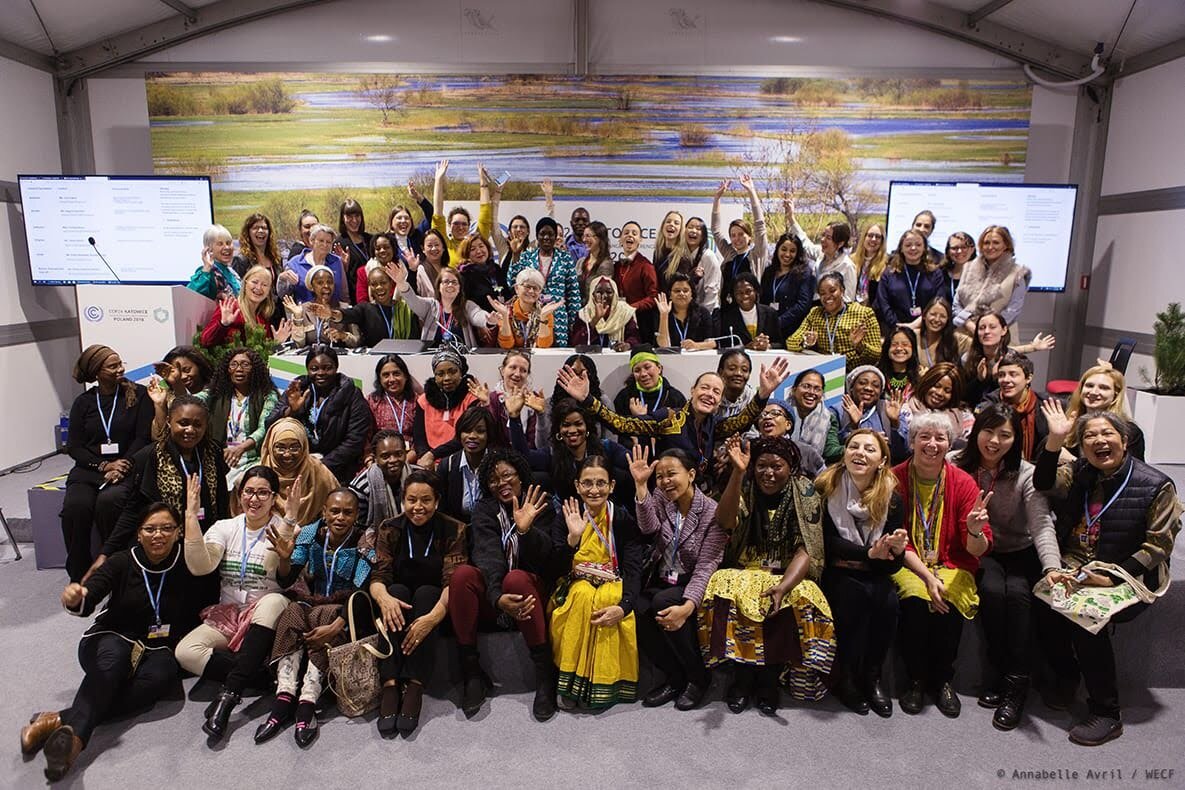 This year, the Women and Gender Constituency celebrated the 5th anniversary of the Gender Just Climate Solutions Awards in a special event part of the UN Climate Change Dialogues 2020, "Gender-transformative climate action from the ground" on December 2nd. This celebration, together with the launch of the special edition of the 2020 Gender Just Climate Solution Publication, presented locally owned solutions that have demonstrated success on the ground and have potential for shifting power relations, ensuring women's rights and leadership as well as positive impact for our planet.
The webinar was hosted in English with interpretation into Spanish and French and can be viewed below. To access the French or Spanish interpretation, please contact anne.barre@wecf.org.
You can view and download the latest edition of our Gender Just Climate Solutions publication, showcasing the 2021 honorees.
2021 Gender Just Climate Solutions (6th edition) – We are proud to show that relevant gender just climate solutions are already happening around the world. They aim for transformative, inclusive development models and help to rethink growth. With real commitments from governments, e.g. in terms of finance and technology, we can upscale these inclusive solutions to have a significant impact, not only locally but also on the global level.
ENGLISH:                                      FRENCH:                                       SPANISH:
2020 special edition presenting the accomplishment of 15 award winners who implemented Gender Just Climate Solutions all around the world.
ENGLISH:                                         FRENCH:                                      SPANISH:
2019 Gender Just Climate Solutions (5th edition):
 ENGLISH:                                      FRENCH:                                        SPANISH
We are currently not accepting any applications. The next application process will open in 2022.
To receive updates on the Gender Just Climate Solutions initiative, including announcements of new application periods, join the Women and Gender Constituency's advocacy list using this form. Your form will be reviewed and your address added to the list within one week.
Selection Criteria for Gender Just Climate Solutions
Provides equal access to benefits for women, men and youth

Aims to alleviate and/or does not add additional burden to women's workload (such as via additional natural resource management or care responsibilities without compensation)

Empowers women through better mobility/accessibility, enhanced livelihood security, enhanced food security, improved health, access to safe water, etc. (as many benefits as possible)

Promotes women's democratic rights and participation by ensuring decision-making by local women, men, women's groups, cooperatives and communities

Locally led and/or locally driven (decentralized and appropriate)

Ensures self-sufficiency & a low input of resources (safe, affordable and sustainable)

Contributes to climate change mitigation, emissions reduction and/or climate adaptation (the project is sustainable)

Results can be shared, spread & scaled up (replicable elsewhere, not just benefiting one individual)

Shows interlinkages to cross-cutting issues, such as (including, but not restricted to) peace-building, natural resources management, food security and/or health, water and sanitation
Sponsors, supporters and partners: