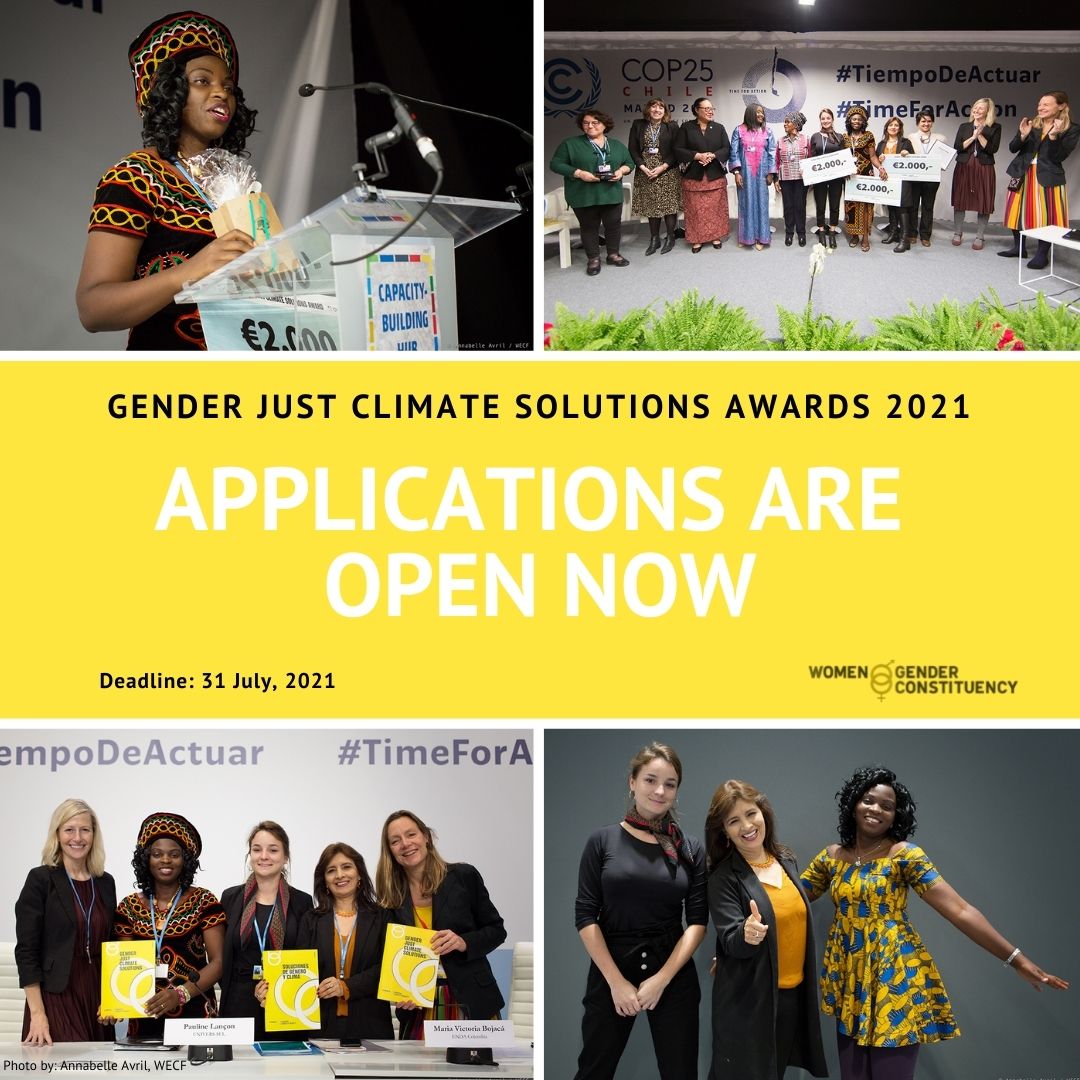 The Women & Gender Constituency invites you to participate in the 2021 Gender Just Climate Solutions Awards!
In 2015, the WGC launched its first 'Gender-Just Climate Solutions' Awards. These awards aim to showcase real solutions for a more just, equal and healthy planet. You can apply when you have any climate solution or initiative with a women or gender perspective. We are interested in activities reaching from the areas of consumption changes, to building resilience and capacities, to renewable energy, sustainable mobility and agriculture, to conservation and biodiversity and up to those addressing governance, institutional or societal change. All types of activist, grassroots and women-led organizations and groups working on issues related to climate change from all over the world are encouraged to apply. Only non-governmental initiatives are eligible (local or national government initiatives cannot be considered). The activity/initiative should either already have been completed or should be in current operation. Previous initiatives recognized have included women-owned and operated energy cooperatives in Germany, female entrepreneurial "energy shop" initiatives in Mozambique and human rights-based relocation planning in the Carteret Islands.
Winning initiatives are showcased across three different project types, please review our previous award winners for examples.
Initiatives will be weighed against the following criteria aimed to measure contributions to gender equality, resilience and sustainability. Winning projects will ideally work across all of the key result areas, though the organizers note that not all projects will be in a position / stage to meet each and every criteria. Due to existing inequalities and a lack of available resources globally, priority will be given to women-led initiatives, recognizing that programmes do not necessarily need to be women-led to be gender just. Please find more information on criteria here.
Selection & Award:
Initiatives will be reviewed by an international jury with members of the Women and Gender Constituency. Two tiers of 'Winners' will be selected:
Three top 'Award Winners' will be identified, one per project type. These three winners will each receive a Seed Grant of 2000 Euros; travel for one representative to attend the Awards Ceremony held at COP26 in Glasgow, Scotland this November 2021 (depending on COVID-19); and mentorship activities from the members of the Women and Gender Constituency (see here for details).
The 'Award Winners' are invited to a capacity building workshop during COP26 with the previous award winners of the Gender Just Climate Solutions 2015-2019. The workshop is organized together with Climate Technology Centre & Network (CTCN) and it includes training to up-scale their solutions, share their experience and expertise with each other, as well as to network.
 Up to 30 additional 'Runners-Up' will be featured in a full color-publication which will be showcased in a high-level international awards ceremony at COP26, as well as be highlighted on the WGC website.
Timeline:
Applications Open: Tuesday 01, June
Applications Close: Saturday, 31st July, 11pm EST