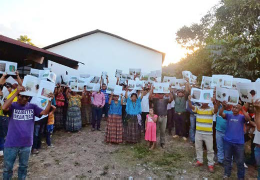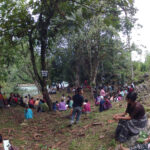 Description of the project: Sierra de las Minas is an important water catchment and biosphere reserve in Guatemala, confronted with extractive mining. The "Centro de Reflexiones" strengthens the capacities and knowledge of women and men from communities in resistance. Through a model called "Rakun Akal" (sons and daughters of the Earth), political training workshops are organized on indigenous law, human rights, community organization and communication, food sovereignty, and nature protection. Equal access for men and women is ensured. The goal is to help communities build their own pathway towards alternative development models, based on the people's rights to autonomy and self-determination as political citizens, recognizing their Mayan identity Q'eqchi' and Poqomchi'.
Climate impact
Recovering and formalizing land tenure rights in favour
of communities.
Gathering data, generating and disseminating knowledge
through publications and studies on territories and indigenous territoriality.
Strengthening community environmental resistance
movements through participatory observation and collective knowledge production.
Gender impact
Strengthening the public participation of women's groups in decision-making spaces.
Alleviating women's burden of domestic care to allow time for education and knowledge sharing.
Breaking gender stereotypes within the community through political training on territorial decisions.
Scalability / replicability
Extending their training to 10 other communities.
Moderating a community radio to reach out to other Mayan communities and share information and lessons learned.
Promoting the Tezulutlán Peoples Council as an intercommunal network defending the right to water, food
sovereignty and respect of nature.