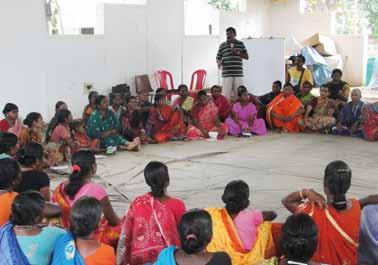 Description of the project: Participatory planning at the grassroots level is introduced for effective management and development of natural resources with a focus on initiating an ecovillage. A particular effort is to strengthen 53 tribal previously initiated women's organizations from ten districts of Orissa at the block level. These groups in turn carry out social and ecological initiatives. The project is implemented while keeping in view the empowerment of socially excluded tribal and Dalit women, addressing the issues of climate change and ensuring respect for indigenous practices and traditional knowledge for protecting natural resources.
Climate Impact: All tribal women's organization's leaders are under the umbrella of Orissa Nari Aamaj, the state level organizations federation, and plan the activities addressing climate change, and disseminating information and good practices of some of their counterparts. The women leaders were selected by the organizations and they are trained by THREAD to participating in self-autonomous local institutions' elections. Activities for mitigating climate change like organic farming, systematic rice intensification, organic manure production (using cow dung and cow urine), tree planting, lobbying for a forest rights act and community forests for tribes have been the main focus during the past seven years. THREAD supported tribal women to create awareness on peak oil after training them in the "Transition Town" concept.
Gender Impact: Over 325 tribal women have been elected as village representatives, panchayat presidents and vice chairpersons of their block.120 000 individual forest land titles are provided to the women who are the main recipients and owners. THREAD and tribal women leaders are also directly involved in creating employment through effective implementation of the National Rural Employment Guarantee Act and have mobilised 1,06 million person days of labour among the tribal and Dalit families of Odisha. A 'Grow Your Own Food' drive has positively impacted the health and nutritional intake of women. Tribal women have been trained in block brick making and in masonry skills to construct their own eco-friendly homes. Over 5000 tribal women have been trained in permaculture and ecovillage design education.