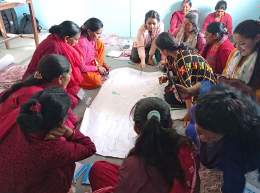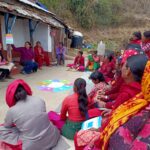 Description of the project: Using a Feminist Participatory Action Research (FPAR) methodology, WoNEE empowered 100 local women in the Satkanya and Bhaise communities in Nepal to act on climate adaptation by successfully advocating for gender-responsive budgeting and policymaking. Capacity building actions help formulate strategies for resilient infrastructure development and to create an enabling environment for equal participation of women in the economic, social and political spheres. The training programme was designed based on community-based participatory research, including an intersectional analysis of lived reality and stories from individuals. Over 800 community members benefit indirectly from the project.
Climate impact
Women have gained knowledge and understanding about
climate change and its impact
Women have transferred their knowledge to community
members, raising their awareness on climate change and
climate adaptation actions.
A climate adaptation program was presented to the local
government, with specific policy demands.
Gender impact
Women participate in the decision-making processes through capacity building related to climate adaptation, budgeting and gender.
Representation of diverse groups such as men, youth, girls
and the elderly in the community consultations.
Community members have developed leadership on rights-based approach, gender budgeting and access to clean energy.
Scalability / replicability
Extending the issue to larger groups in Nepal to achieve
climate justice and gender equality.
Enhances the opportunity for employment, investment
and benefits sharing, social security and access to education and health.
Empowered beneficiaries on climate change adaptation for
water, energy and food.