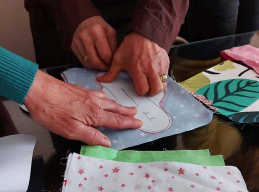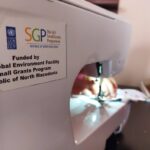 Description of the project: In North Macedonia, 90% of girls in rural areas and 75% in cities miss school 2–5 days/month due to excessive cost of menstruation products and inadequate sanitation facilities. To tackle menstrual poverty, JHR Skopje trained 5,000 women from rural poor communities to create their social enterprise to manufacture and sell environmentally safe, reusable menstrual pads. This has cut down by 10% the plastic use for menstrual hygiene (6 million plastic parts discarded/month result in heavy emissions and pollution). The organisation has led national information and advocacy campaigns demanding tax cuts on menstruation products and decent sanitation facilities in public schools and universities.
Climate impact
Reduces carbon footprint by the equivalent of
5.3kg CO2 /person/year (Life Cycle Assessment by RIT
Stockholm for processing and waste).
Eliminates toxic plastic waste from menstrual
hygiene products.
Circular economy via the promotion of multi-use cotton pads.
Gender impact
Women's economic empowerment from producing and
selling reusable menstrual pads.
Community organizations connect to women and girls
in marginalized groups.
Education and training available in equal measure to women, youth, and men.
Scalability / replicability
Expanded to local municipalities and currently scaling at
national level.
Provides informal settings for sharing beliefs, problems, and community interests.
Based on their study on menstruation poverty, JHR is
connecting organizations in the region to promote Agenda 2030 on access to water & sanitation.