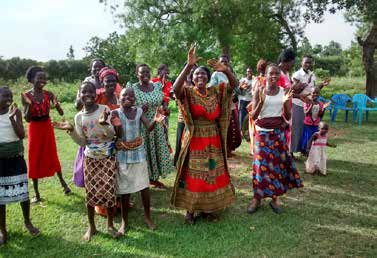 Description of the project: Osukuru United Women's Network provides community education on climate change, tree planting with seedlings and nursery beds, manufacture of Lorena cookstoves and biomass briquettes. It targets those most exposed to climate change in Uganda: training is primarily for women, but men are also included. Main objectives are to reduce CO2 emissions and indoor air pollution, improve women's and children's health, food security, and household income. The community (38,000 inhabitants) benefited from the increased food production as a result of reforestation. The initiative creates entrepreneurship opportunities and greater autonomy for women.
Climate impact: Since 2006, the village has experienced severe climate change impacts. The adaptation and mitigation activities of Osukuru United Women's Network have produced immediate results: planted trees provide beneficial shade for food crops and combat soil erosion threatening food supply. The clean cookstoves have significantly reduced CO2 emissions and indoor air pollution caused by the burning of firewood.
Gender impact: The trainings have enabled the establishment of women's small entreprises. 25 women are selling briquettes for the cookstoves; the extra income earned is used to start poultry business and pay their children's school fees. Reforestation and agroforestry ensures increased food production and reinforce financial independence. Improved health, nutrition and revenues as well as counselling on sexual abuse are slowly improving women's status and changing the community's visions of gender roles.
Scalability / replicability: The scalability of the initiative lies in the strong commitment of the local community: after having lived through severe floods and droughts and being left out of international support, local donors and villagers contribute to the project from their own pockets, and they have seen the direct results of their investment in time and resources. Regular community decision-making meetings are chaired by both women and men.