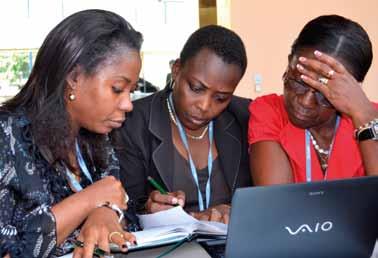 Description of the project: Recognizing a need to support the participation and leadership of women in the UN climate negotiations, particularly from countries most affected by climate change, the Women Delegates Fund (WDF) was launched in 2009. The WDF works to enhance women's participation in the climate negotiations in three key ways: 1) Travel support; 2) Capacity Building and Networking, and 3) Outreach and Advocacy. This is not a program aimed only at bringing women to the table, but in creating a stepchange in the power dynamics of the UN climate negotiations, and in all relevant bodies, towards one which encompasses women and men's equal right to participate in decision-making.
Climate Impact: The impacts are both in terms of policy and political leadership of those supported. The period of the WDF programme has seen wide-ranging decisions on gender-responsive climate policy taken under the UNFCCC. Additionally, many WDF delegates have translated knowledge and experiences to the national level. For example, after participating in negotiations with the WDF, Anniete CohnLois of the Dominican Republic designed a project for women's empowerment under her mission at the Vice President's office. The project promotes women's entrepreneurship in climate vulnerable areas of the Dominican Republic, supporting them in skills development, capacity-building and financial inclusion.
Gender Impact: Since 2009, the WDF has supported 218 trips for 54 women across 40 countries to attend 25 sessions of the UNFCCC. Among these, over 40% of funded delegates were the only women on their national delegations. During these sessions, nine 'Night Schools' have been held and a further 270 women have been trained in technical language and negotiations skills. In the last seven years, the number of total women delegates has increased from 31% to 35% in this time frame, and women Heads of Delegation has risen from 16% to 26%.