After six years, the 2022 climate negotiations (COP27) are now back on the African continent. It is time for the global community to prioritize the African region, which has contributed negligibly to climate change, but has been among the hardest hit by climate impacts – and in particular its women and girls.
On the 12th of October, over 150 African activists representing diverse organisations championing gender and climate justice across the continent launched a set of collective demands for action and accountability on climate change.
To uplift young feminist voices and in solidarity with African youth, join us on 19 October for a youth-led Twitter space to learn more about and amplify the demands.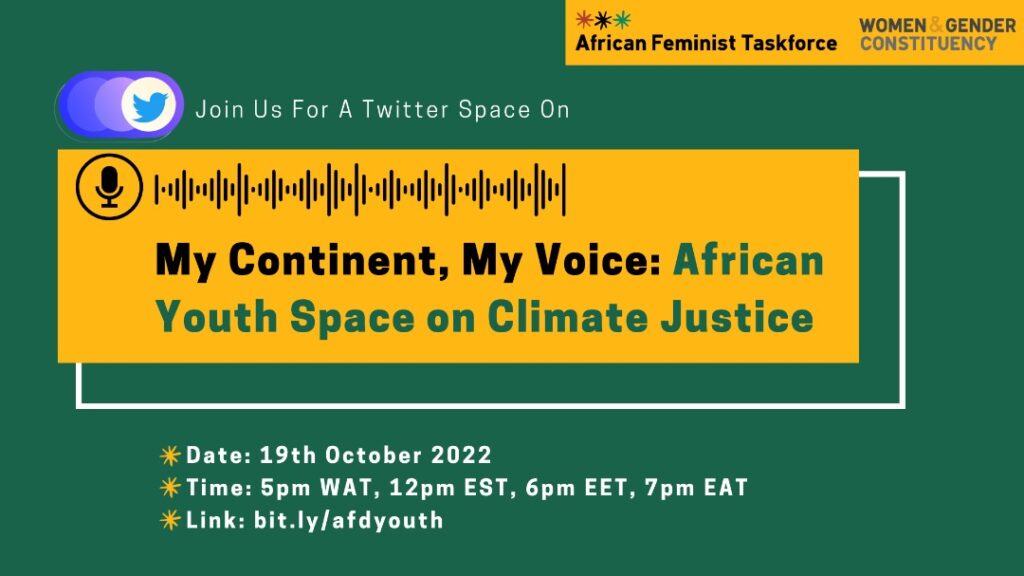 Spotlight: Young African Feminist Climate Activists
Jennifer Uchendu | Nigeria
Jennifer Uchendu is a climate activist, ecofeminist, and founder of sustyvibes, a youth-led organization making sustainability relatable and actionable for young people in Nigeria. Jennifer's interests lie in the intersections of women, youths, and the environment. Recently, she launched The Eco-Anxiety Africa project (TEAP), focused on exploring and understanding the experience of eco-anxiety in Africans populations through research and advocacy.
Jennifer holds a Bachelor's degree in Biochemistry from Covenant University and a Master's degree in Development Studies (specialized in climate change and gender) at the Institute of Development Studies, England. She is also a 2021 Ashoka Fellow, a 2019 Chevening scholar, a 2018 Mandela Washington Fellow, and the co-author of the e-book: "A Guide to Business Sustainability in Nigeria."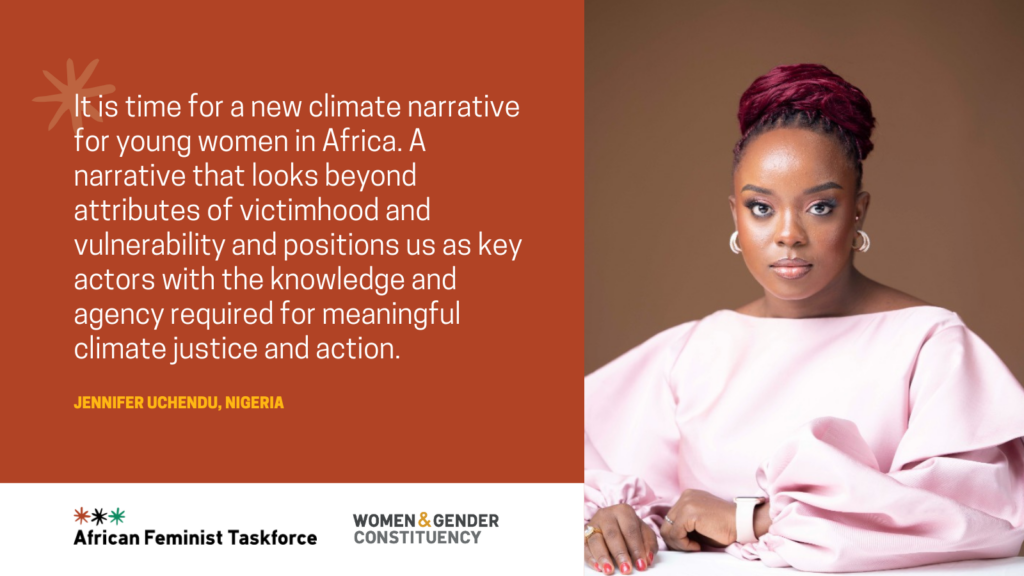 Nada Elbohi | Egypt
Nada Elbohi is a Resource Mobilization and Partnerships Officer at Tamkeen Association, Co-Lead of Network of Empathy, and currently developing a youth project on sexual and reproductive health and rights. She has a BA in International Relations, focusing on Human Rights and Peace and Conflict Studies, and graduated valedictorian of her class with a joint-degree from the University of Amsterdam/Vrije Universiteit in The Netherlands. She is a strong believer in and advocate for the importance of education as a tool of empowerment, development, and to promote environmental sustainability.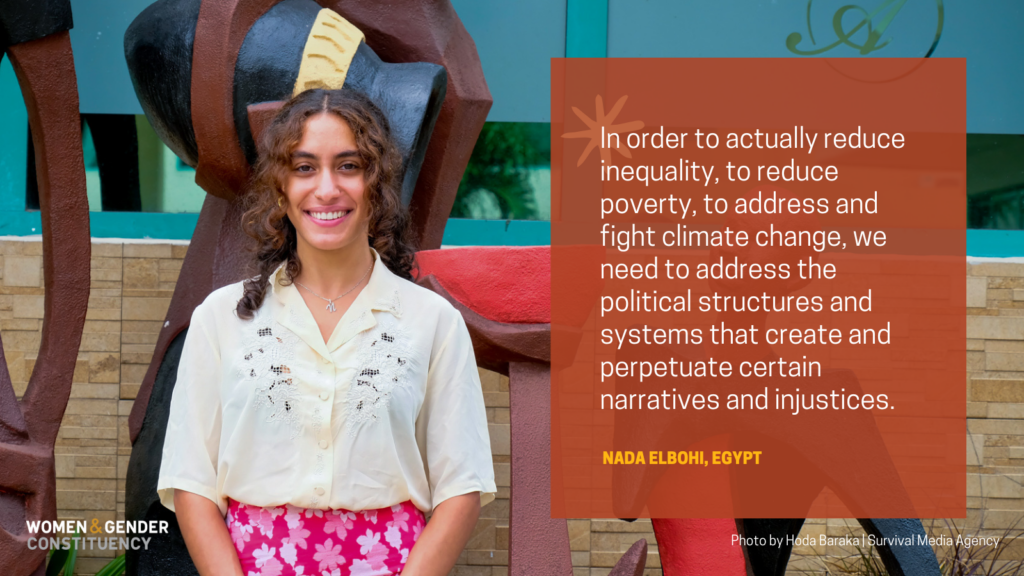 Nourhene Ghanmi | Tunisia
Nourhene Ghanmi is a 23-year old Tunisian environmental activist working to address the problem of climate change. She serves as deputy treasurer of the Youth For Climate Tunisia movement, whose goal is to raise climate awareness among Tunisians and put pressure on leaders to declare a climate emergency in the country. Nourhene is proud to have been present as an organizer in every climate strike that took place in Tunisia, and as a participant in various climate conferences organized by HBS (Heinrich Böll Stiftung organisation), Greenpeace MENA and Stop Pollution.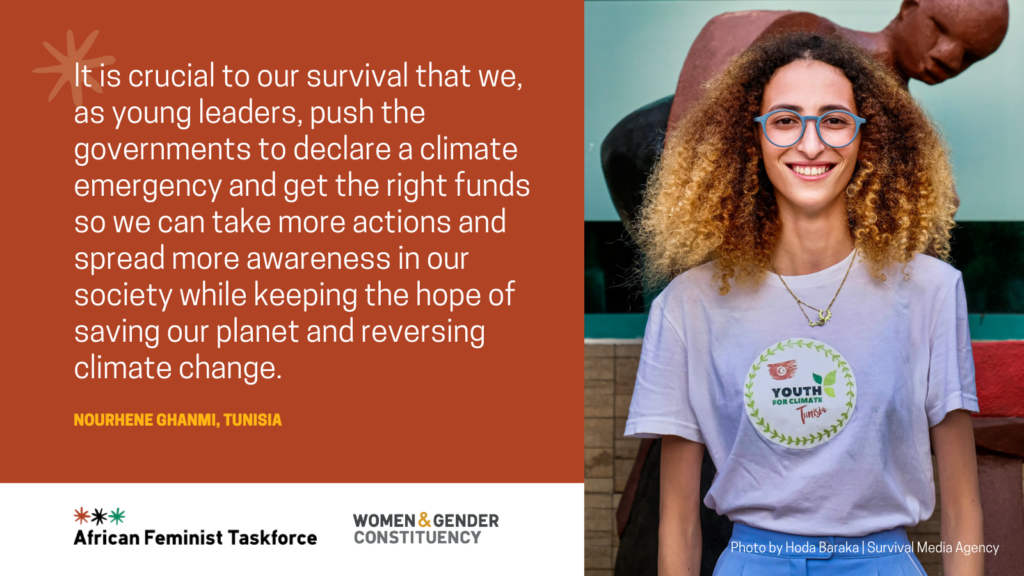 Zainab Yunusa | Nigeria
Zainab is a climate justice advocate for women's and girls' rights. As a development practitioner for 6 years, Zainab works in community and international development primarily to strengthen research and advocacy, influence policies, and manage projects promoting women's and girls' issues in areas of meaningful youth engagement, sexual and reproductive health and rights, inclusive governance, and climate change.
Zainab collaborates with UNICEF as a Global Ambassador of the U-Report tool, championing people-centred development by amplifying the views of young citizens (over three million in Nigeria alone) on themes such as education, digitisation, climate change, and governance. As a delegate of the UNFCCC's Youth Constituency (YOUNGO), and the Women and Gender Constituency (WGC), she advocates for inclusiveness in global climate change decision-making and action. Likewise, she is a member of the UNFPA Joint Youth Working Group on SRHR and Climate Change as well as the SRHR & Climate Change Coalition of Generation Equality.