For immediate release
12 December 2019
COP25, Madrid
Feminists joined Wednesday's peaceful protest with indigenous peoples, youth, trade unions and other climate activists to call for more ambition in the current climate negations. The peaceful action calling for human rights and gender equality in climate negotiations turned violent by the police when they used excessive force to assault and shove women and gender rights activists, forcing them outside the COP 25 premises in freezing cold and barricading them by shutting the steel doors. 
Civil society has faced constant backlash at the climate negotiations by closing down the space for our voices to be heard, acknowledged and considered during the policymaking process for Gender Action Plan and Article 6 of the Paris Agreement among other pressing issues. There is growing frustration among civil society on the fact that human rights and gender equality language is being traded off for resources by powerful countries. Women and gender groups continue to demand rich countries to step up and pay up for the historical responsibility for causing the climate crisis. We highlighted these issues at the peaceful protest yesterday. 
We also want to highlight that women environmental rights defenders continue to be on the frontlines to save the planet, especially indigenous, black and those from the Global South and yet are harassed, threatened and persecuted by those in authority in their own countries and elsewhere. We need a strong human rights language in our text so that there are social, environmental and human rights safeguards in place.
This is where we are at! @UNFCCC rather kick out the people calling for human rights and gender equality for all, than kicking out the polluters, who are the reason our world is in a #climatecrisis, SHAME ON YOU! #CacerolazoCOP#COP25#StepUpPayUp #feministswantsystemchange pic.twitter.com/sHf77Dva1o

— Women & Gender Constituency (@WGC_Climate) December 11, 2019
It seems the #COP25 made the most shameful kind of history today: Shortly after welcoming @GretaThunberg to speak, more than 100 climate activists got forcefully thrown out after a peaceful protest. That has never happened before, it's outrageous.
The people won't be silenced. ???? https://t.co/UuztFmPqkp

— Luisa Neubauer (@Luisamneubauer) December 11, 2019
Activists, women, indigenous and worker groups are kicked out of UN climate talks after protest, asking for #ClimateJustice

https://t.co/AYCxRd14xS via @Yahoo

— Bert De Wel ????????‍♀️????????‍♂️????????‍???????? (@BertDeWel) December 11, 2019
###
ABOUT
The Women and Gender Constituency (WGC) is one of the nine stakeholder groups of the United Nations Framework Convention on Climate Change (UNFCCC). Established in 2009, the WGC now consists of 29 women's and environmental civil society organizations, who are working to ensure that women's voices and their rights are embedded in all processes and results of the UNFCCC framework, for a sustainable and just future, so that gender equality and women's human rights are central to the ongoing discussions. As the WGC represents the voices of hundreds and thousands of people across the globe, members of the Constituency are present at each UNFCCC meeting and intercessional alongside the UNFCCC Secretariat, governments, civil society observers and other stakeholders to ensure that women's rights and gender justice are core elements of the UNFCCC. In this action the constituency is joined by other stakeholders committed to advancing women's human rights, peace and climate justice. https://womengenderclimate.org
RESOURCES
Testimonies By Women and Gender Rights Defenders at the Peaceful Protest: https://womengenderclimate.org/testimonies-by-women-and-gender-rights-defenders-at-the-peaceful-protest/
Women and Gender Constituency Key Demands: https://womengenderclimate.org/wgc-feminist-demands-at-cop25/
VISUAL RESOURCES 
[Photo Credit: Annabelle Avril]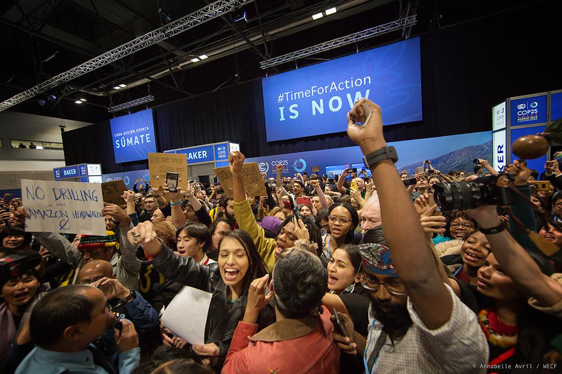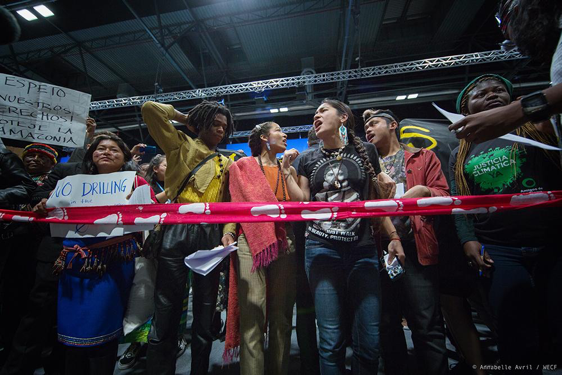 FOR FURTHER INFORMATION, MEDIA REQUESTS AND INTERVIEWS CONTACT:
Neha Gupta | Email: neha@apwld.org | Phone: +34 634 713 352 (Mobile) | Phone: +66 955 282 396 (Whatsapp) | Languages: English, Hindi
Hanna Gunnarsson | hanna.gunnarsson@wecf.org | Phone: +49 152 040 585 73 | Languages: English, Swedish