Sharm El-Sheikh, Egypt — As part of a Human Rights Day of Action, The Women & Gender Constituency and allies will be holding a cross-constituency planned protest within the COP27 venue to call attention to the many silenced voices at COP27. This direct action will highlight and honor the thousands of activists, political prisoners, and human rights defenders who have been excluded from the negotiations, imprisoned for standing for human rights, and who are not here with us today due to violence and persecution. Advocates will wear white to stand in solidarity human rights defenders; share the demands and quotes of excluded voices; and hold silence for those who have been murdered for defending human rights and our planet. Advocates will be available after the action for questions.
WHAT: Cross-constituency protest action: No climate justice without human rights!
WHEN: 10 November, 11 AM
WHERE:  Main roundabout by entrance to Zone D [after info desk building at the large LED screens tower]
RELATED: This action is part of a Day of Action organized by various climate justice groups.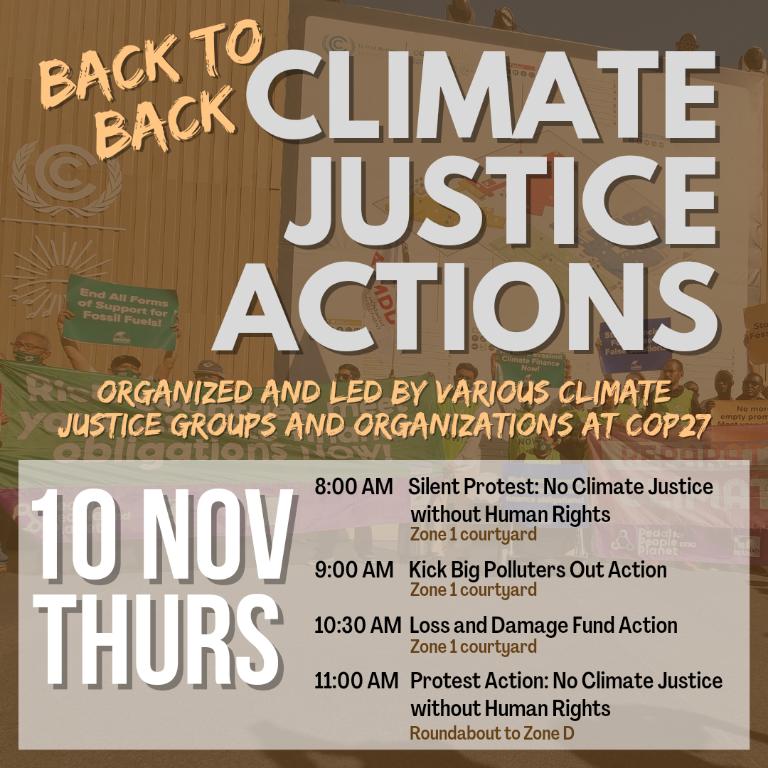 Contact: Lindsay Bigda: lindsay@wedo.org | WhatsApp: +1 207-385-7924
###
About The Women and Gender Constituency
The Women and Gender Constituency (WGC) is one of the nine stakeholder groups of the United Nations Framework Convention on Climate Change (UNFCCC). Established in 2009, the WGC now consists of 29 women's and environmental civil society organizations, who are working to ensure that women's voices and their rights are embedded in all processes and results of the UNFCCC framework, for a sustainable and just future, so that gender equality and women's human rights are central to the ongoing discussions. As the WGC represents the voices of hundreds and thousands of people across the globe, members of the Constituency are present at each UNFCCC meeting and intersessional alongside the UNFCCC Secretariat, governments, civil society observers and other stakeholders to ensure that women's rights and gender justice are core elements of the UNFCCC. In this action the constituency is joined by other stakeholders committed to advancing women's human rights, peace and climate justice. https://womengenderclimate.org