PRESS RELEASE
5/12/2021
Contact: Mara Dolan, mara@wedo.org
ACTION HELD BY FEMINISTS TO  HIGHLIGHT MISSING VOICES AT COP26
Glasgow, Scotland – At 18:00 – 18:30 GMT on November 3, the Women & Gender Constituency and allies held a direct action within the COP26 venue to highlight missing voices at COP26 – both the activists who have been excluded from the negotiations due to ongoing injustices, as well as honoring the women's human rights and environmental defenders  who are not here with us today due to ongoing violence and persecution. At the entrance to the Blue Zone on Wednesday evening, as delegates exited the COP en masse after the day of negotiating, feminist and women's rights advocates gathered to stage a planned protest to honor these activists, share the demands of excluded voices, and hold silence for those who have been murdered for defending human rights and our planet.
As activists silently filed in to stand behind empty chairs, representing the voices missing from the space, Gina Cortes of the Women and Gender Constituency kicked off the action, stating: 
"For the ones alive who are not here, and for the ones who have been murdered for protecting our planet."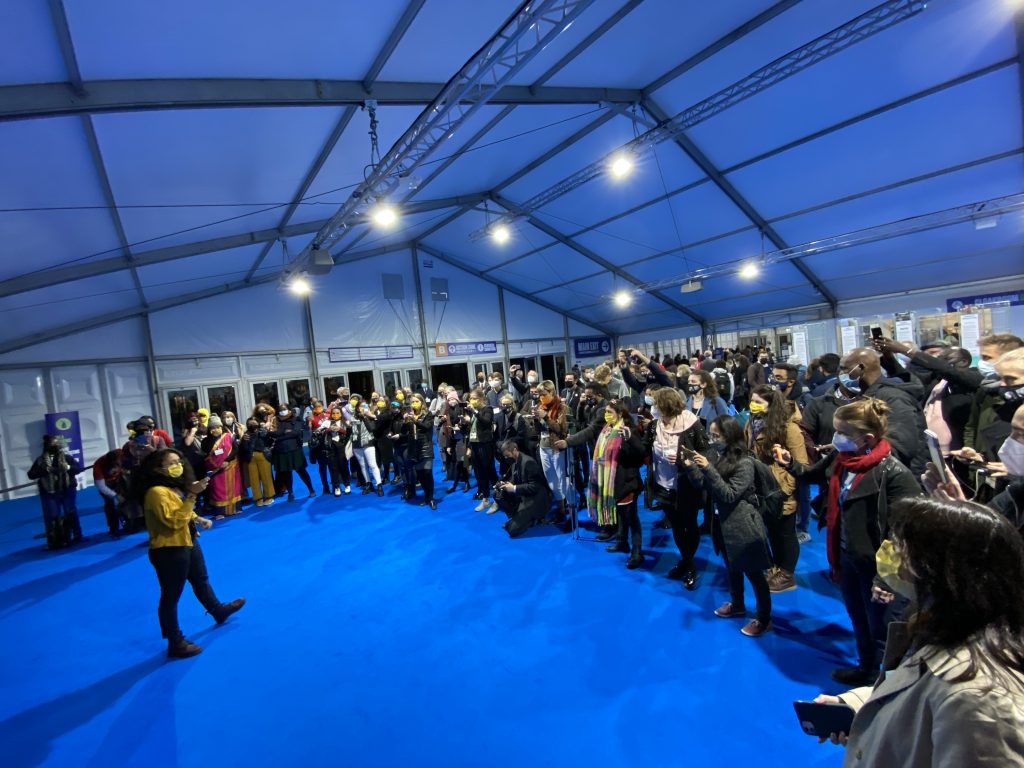 "We are here today, as feminists, activists, and members of the Women and Gender Constituency, to bring attention to and uplift the many, many missing voices at COP26. We are here to call out the deep inequities and deep injustices of this COP,  the thousands of activists who should be here but who are missing, the closing space for civil society, as well as all those environmental defenders whose lives have been lost in the protection of our ecosystems – and in the face of increasing climate disasters. 
This space remains inaccessible to many Indigenous, Afrodescendant, young, grassroots, and frontline activists, advocates, and feminists, especially those trying to come from the Global South to advocate for their communities, the oceans, the land, peoples, and our futures."
The action proceeded to list out names of allies and activists who are have been excluded from the space – due to inaccessibility of this COP, racist travel and COVID policies and more – highlighting and kicking off their #MissingVoicesCOP26 campaign.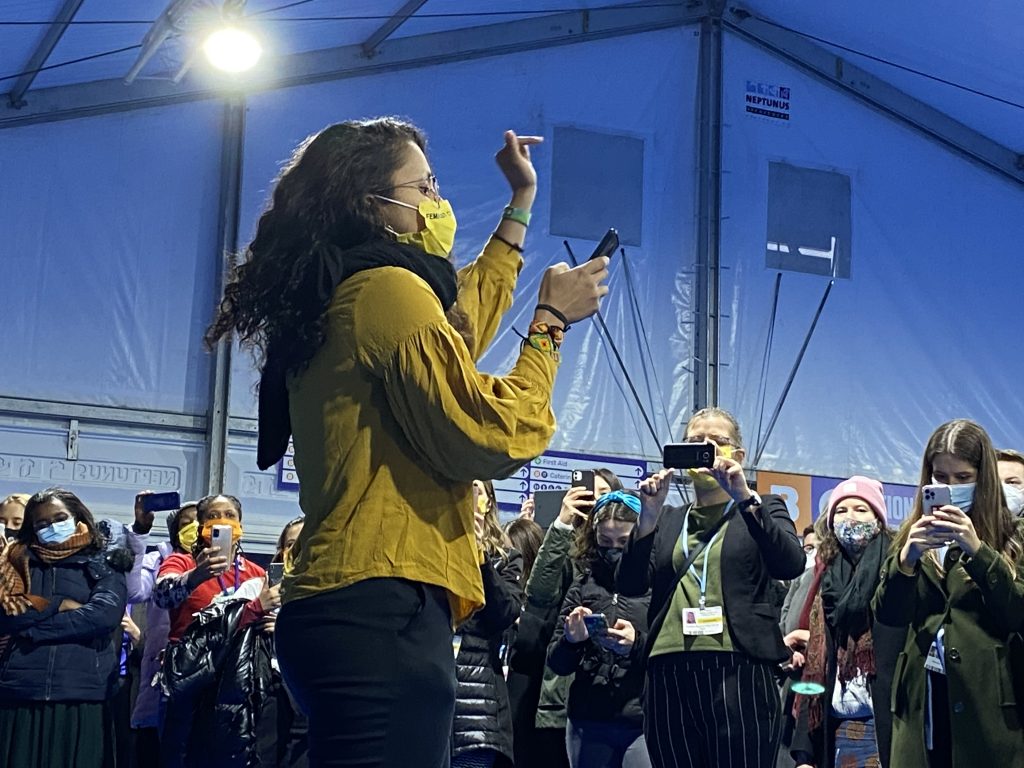 Cortes continued, "We are also here to honor the lives of women environmental defenders on the frontlines who put their bodies on the line, who live and struggle under threats of violence, who continue to choose to protect our beautiful planet. We mourn those environmental and human rights defenders who are also missing at COP26 today as they have lost their lives in the process of working towards more just futures. We demand their work, their lives, their legacy be valued and recognized. In many cases, their families have yet to see justice. I will now read the names of only some of the many women's rights, human rights and environmental defenders who have lost their lives, and ask you to join me in a moment of silence." 
Cortes then proceeded to read out a list of more than one hundred names of murdered women's rights and environmental defenders, gathered from members of the Women & Gender Constituency who lifted up the names of activists from their home countries. 
Cortes concluded with "We cannot forget these many, many missing voices. We hope you'll join us in uplifting missing voices at COP26, whose presence is crucial in not only denouncing false solutions, but also building the radically just feminist futures we need for both people and planet."
The action transitioned to song, with folks wrapping their arms around each other, lining up shoulder to shoulder, and singing, "People gonna rise like the water, we're gonna face this crisis now, I hear the voice of my great-granddaughter, saying climate justice now!"
###
ABOUT
The Women and Gender Constituency (WGC) is one of the nine stakeholder groups of the United Nations Framework Convention on Climate Change (UNFCCC). Established in 2009, the WGC now consists of 29 women's and environmental civil society organizations, who are working to ensure that women's voices and their rights are embedded in all processes and results of the UNFCCC framework, for a sustainable and just future, so that gender equality and women's human rights are central to the ongoing discussions. As the WGC represents the voices of hundreds and thousands of people across the globe, members of the Constituency are present at each UNFCCC meeting and intersessional alongside the UNFCCC Secretariat, governments, civil society observers and other stakeholders to ensure that women's rights and gender justice are core elements of the UNFCCC. In this action the constituency is joined by other stakeholders committed to advancing women's human rights, peace and climate justice. https://womengenderclimate.org
RESOURCES
Women and Gender Constituency Key Demands
Women and Gender Constituency website