Gender Equality & Feminist Events Overview
Produced by the Women & Gender Constituency, this events list contains WGC events at SB56 as well as events on gender equality and feminist climate action. The list is organized by date and time. All times are in Germany time/CEST.
Events marked with an asterisk* indicate that a WGC member is speaking or hosting the event.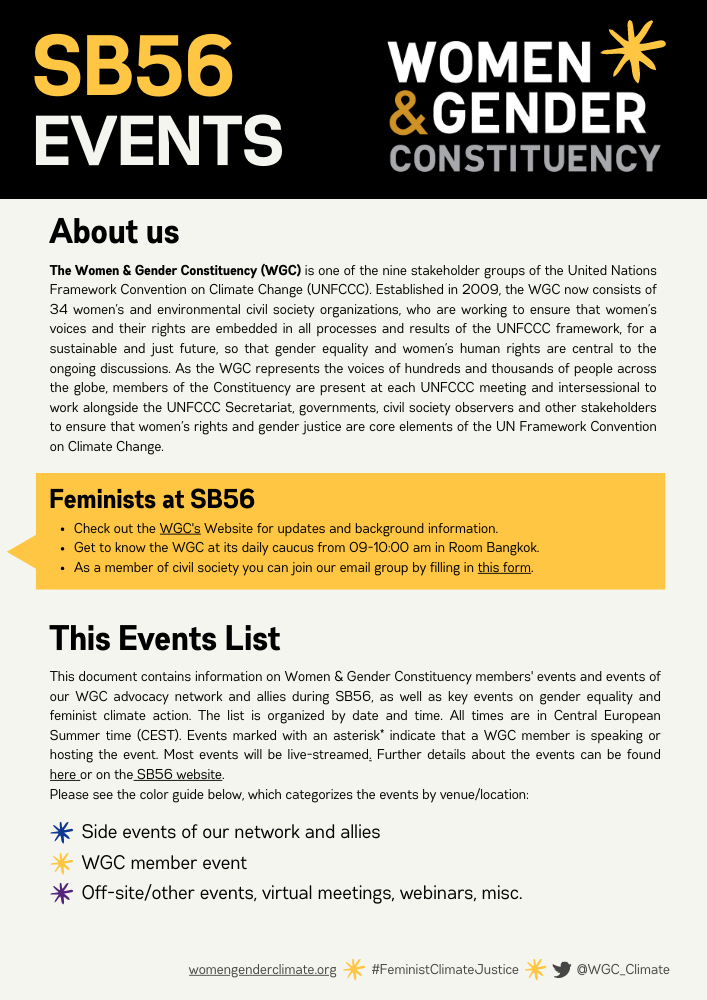 Please feel free to use and share.
WGC Side Event African Feminist Demands for COP27 on Monday 13 June
We cordially invite you to our Women & Gender Constituency side event "African Feminist Demands for COP27".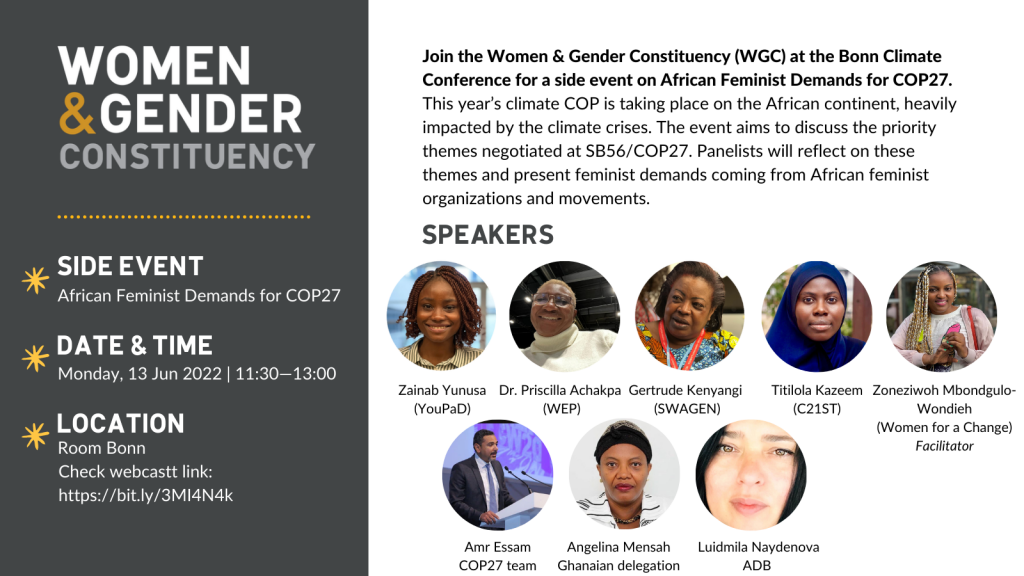 African Feminists have gathered in Bonn to foster collaboration within the climate space in the build-up to the UNFCCC COP27 taking place in Egypt in 2022. We intend to scale concerted climate action among African and global feminists in the climate space and have a set of demands of concern and common interests which should be addressed during COP27. African feminists work within the climate ecosystem to drive actions around key priority themes – climate justice, gender justice GBV, agriculture, technology, climate finance, sexual reproductive health and rights (SRHR), education, energy transition, loss and damage, food sustainability, adaptation, mitigation, capacity building, and response measures.
To ensure that the decisions at COP27 reflect the needs of the diverse groups on the African continent including women, indigenous peoples, people with disabilities and the aged among others, the Women and Gender Constituency will present African Feminist Demands for COP27 for world leaders to ensure form part of COP27 decisions.
Speakers
Amr Essam (COP27 Presidency team)
Angelina Mensah (Ghanaian delegation)
Gertrude Kenyangi (SWAGEN)
Luidmila Naydenova (African Development Bank) (tbc)
Priscilla Achakpa (Women Environmental Programme)
Titilola Kazeem (C21ST),
Facilitator: Zoneziwoh Mbondgulo-Wondieh (Women for a Change)
Date: Monday, 13 Jun 2022 11:30—13:00
Venue: Room Bonn. To join virtually please check the respective link on this page
Gender and climate
The intermediate review of the progress of the implementation of the Gender Action Plan (GAP) activities will be happening at SBI56. The WGC has prepared a short introduction on what the intermediate review covers. For those who are new to the GAP, the WGC has prepared a background brief on what is GAP and its implementation.
SBI/SBSTA Joint Opening Plenary
Lastly, here is WGC's intervention for the SB56 Opening Statement. All Interventions will be published on our website under interventions.