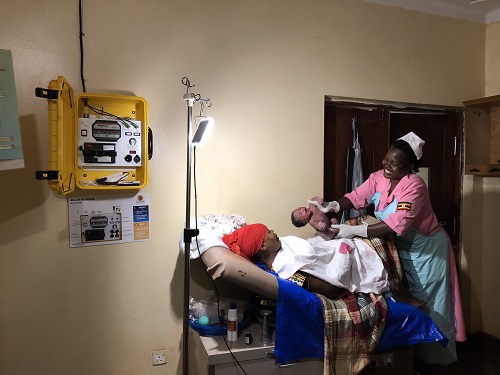 Description of the project: We Care Solar addresses global maternal-newborn health by providing reliable and renewable electricity to power the lighting, communication, and medical devices essential for obstetric care. Around the world, clinicians struggle in near-darkness to provide lifesaving care in facilities lacking electricity. The "Light Every Birth" initiative has brought solar suitcases to public health facilities throughout five African countries, equipping over 4,000 maternal health centers. The 12-volt DC solar electric system includes medical lights, headlamps, a fetal heart-rate monitor and installation hardware. This initiative facilitates timely, quality care for women and newborns in last-mile health centers; it is a model for gender-sensitive energy transition.
Climate impact: We Care Solar suitcases replace fossil fuel sources of lighting, such as candles, kerosene lanterns, oil wick lamps, and diesel fuel generators, reducing carbon dioxide formation, improving air quality, and removing the risk of fire. After deploying more than 4,000 solar suitcases in partnership with NGOs and UN agencies, about 40,000 tons of CO2 emissions could be reduced. By providing solar energy, the initiative is making rural health centers a model of renewable energy for communities.
Gender impact: Foremost, the initiative improves life chances for women and newborns in regions with persistently high maternal and neonatal mortality rates and low rates of energy access. Due to the lack of female solar installers, a "Women Solar Ambassador" program was launched to develop training materials showcasing women as installers and to promote women trainers for capacity-building on solar installation and maintenance. An educational program encourages more girls to enter STEM fields.
Scalability: The solar suitcases as well as educational and capacity-building programs can be rolled-out in more areas. A best practice guide for scale-up has been developed in this regard. A replicable model includes sharing decision-making with local agencies, creating steering committees with key stakeholders, training local technicians and healthcare workers in solar maintenance, providing ongoing technical support, and ensuring eventual handover of the programs into local and national governments.