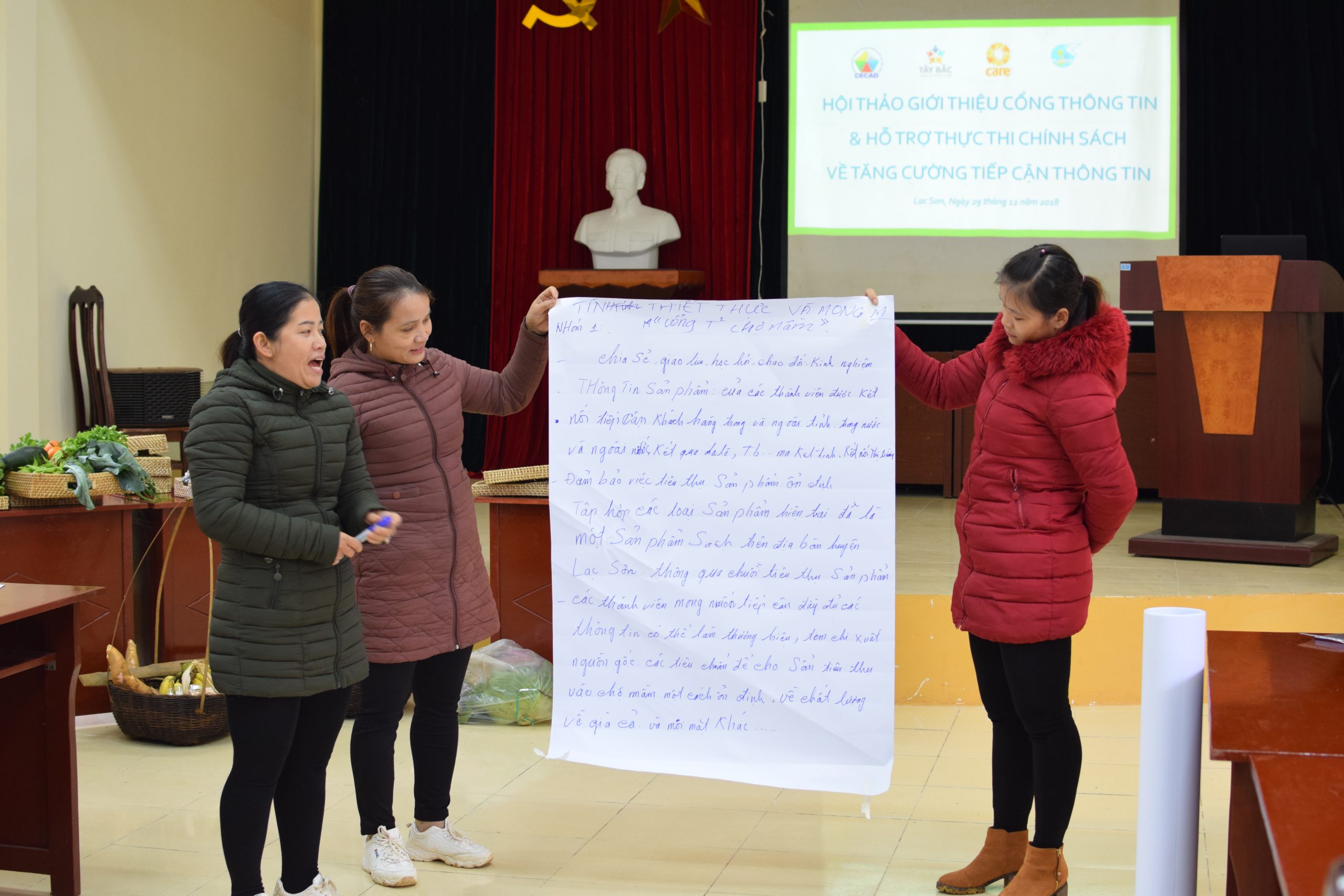 Description of the project: CECAD empowers over 300 ethnic Muong women of the Hoa Binh province in Northern Vietnam to switch to organic agriculture and improve their climate resilience. Trainings focus on identifying and protecting native plant species, reducing chemical inputs and setting up a Participatory Guarantee System (PGS-certification) via an organic farmer support group, in order to ensure customer trust. Start-up Clubs were set up to train 30 women on entrepreneurship skills and build up small organic food businesses with a web portal to access new retail and markets. Muong women worked with local authorities on local policy development, raising their democratic rights. In total 10,000 people in 20 communities benefit from improved rights, resilience and livelihoods.
Climate impact: Shifting to organic farming practices has greatly reduced GHG emissions and pesticide use (4,800 liters since 2013). This reduced the pollution of underground water and soil as well as living organisms in the environment. Protecting these ecosystems contribute to increased climate resilience for land and people. Organic and traditional farming practices have been an important part of agriculture in Vietnam for centuries. Rehabilitating ancestral knowledge combined with agricultural innovation with worldwide recognition (PGS) is appropriate, especially for isolated ethnic minorities who have to rely on local adapted means.
Gender impact: Participatory needs assessment and adapted training programmes have increased the agency of over 300 Muong women. The Start-up Clubs enabled them to create and lead their own entreprises, using modern internet technologies to reach out to more customers. Working with Women's Union and local authorities, they are actively contributing to local decision making processes. This has promoted their status at home and in their communities, improving their democratic and socio-economic rights.
Scalability / replicability: CECAD has worked to establish a quality assurance system for organic products applying participatory monitoring throughout the value chain and involving farmers, customers and local authorities. While national policies on gender equality and sustainable agriculture support scalability throughout the province and other regions, local expertise and resources are also required. By involving women farmers, along with Women's Union and District People's Committees as major stakeholders, the project demonstrates decentralized, feasible and sustainable practices.