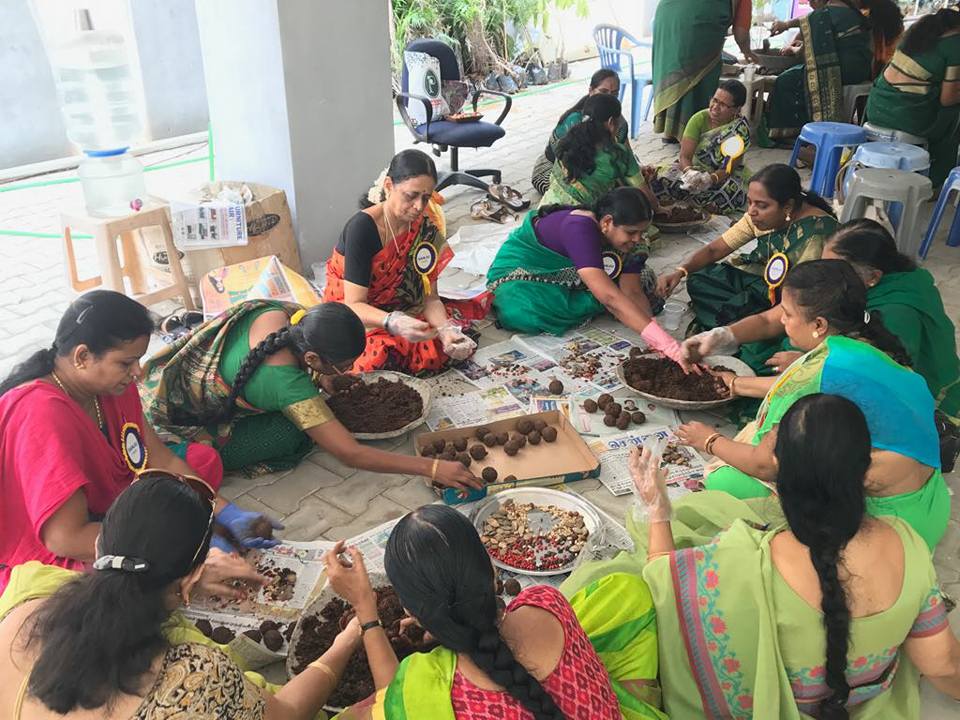 Description of the project: The Seed Ball Project, launched by a women's welfare association in Chennai, India, is a creative nature-based and social approach to stop deforestation. Trained rural women earn an income in producing seed balls out of gathered seeds and organic compost. Then "seed bombing" actions are carried out in 8 districts by 100 urban girls and women, in carefully selected areas with ideal growing conditions, so the seeds can flourish. Pupils join in throwing seed balls near their school and home during awareness campaigns. The broad public responds very positively to the project and helps to nurture the growing plants.
Climate impact: With a good growth rate the bombed seeds can curtail the effects of deforestation, reducing the carbon footprint, improving the water table and preserving biodiversity. The plant and tree seeds and the types of land and soil are carefully chosen to optimize results in different ecosystems. A tree is estimated to absorb about 22 kg of CO2 in one year. With 1500 seed balls dispersed since 2017, the association calculates that up to 33 tons of CO2 could be absorbed in one year by the grown trees. One variety of selected plants, Tulsi, are fully grown and release oxygen for 20 hours per day. They also have medicinal properties.
Gender impact: This pilot project generated sustainable income sources for 10 rural and 50 urban women. In rural areas, women gain skills in manufacturing and selling organic compost, and in urban settlements, women have learned how to produce wide varieties of seed balls, according to season and soil type, as well as to select adapted ecosystems for seed ball bombing. The beneficiaries have access to jobs and have become economic contributors to their families. These socially active and responsible women have inspired many others to reconstruct a livable space in their community.
Scalability: This project is easy to replicate and upscale, since it is based on a very simple technique with local natural materials, and with minimum human intervention for the seed balls to grow. Sanju Women's Welfare Association has mobilized school institutions and the general public. The project is currently running at state-level in Tamil Nadu and could be extended in other states, with proper planning and mobilization. A team has been established to follow up on the growing seeds, monitor and report on the impact.