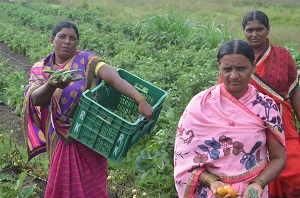 Description of the project: The project promotes the recognition of 70 000 rural women as farmers and decision makers, with improved participation in agriculture and within households. It builds resilience in small, marginalized farming households through capacity building in resilient farming practices. Women's agency is enhanced through land tenure rights, leadership development workshops and participatory governance. The beneficiaries take decisions and shift from cash crops to diversified mixed food crops and vegetables. They can give up chemical inputs for bio-inputs, use local seeds, follow water and soil conservation methods, and diversify food sources to enhance nutrition and income security.
Climate impact: In the last four years, 70,000 women from small and marginalised farmer households have shifted from water-guzzling cash crops such as soya, sugarcane and cotton, to cultivating and consuming local food crops through the year. Instead of monocultures, they grow 7 to 8 crops and plant fruit trees. The initiative has reduced input costs by 25%; the savings makes farming economically viable. The conversion of 60,000 acres of dry land into bio-farms through water and soil conservation practices is leading to improved biodiversity.
Gender impact: Change expected from this initiative is women's leadership, enhanced with technical knowledge and skills, in new social identities as climate champions and decision makers in farms, families and communities. At the heart of this approach is women's complete autonomy around what to grow, what to consume and how much to sell. From the identity as farm workers, women have gained new economic and social statute as entrepreneurs, grassroots advocates and climate leaders.
Scalability/replicability: Locally-owned action by women's groups led to design this holistic and integrated model to address the intersectional challenges of climate change, land degradation, food, water and livelihood insecurity. The project strengthens the leadership of women grassroots advocates to forge partnerships with government, agricultural universities and training institutions. As per a directive of the Government of India, 30% of State funds for agriculture must be allocated to women farmers. This can aid replication and upscaling.