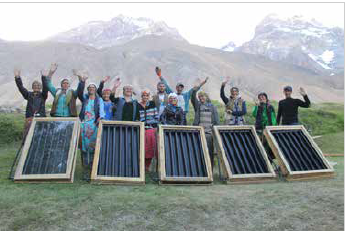 Description of the project: This project in upper Bartang valley, Pamir, Tajikistan improves the life of women and local communities through efficient use of natural resources with affordable sustainable energy technologies. The project supports 55 women and their vulnerable families in 5 communities. Women and men participated in awareness raising and technical trainings, including exhibitions on sustainable energy solutions, workshops on the construction of solar water heaters and food dryers, trainings on women's empowerment and a study tour in other villages. In all, 55 efficient cooking stoves, 75 parabolic solar cookers, 40 solar lanterns, 55 pressure cookers and 2 solar water heaters were distributed in the target villages. Additionally, 300 tree seedlings will be planted to regenerate the forest.
Climate impact: Renewables and resource efficient technologies such as solar ovens and water heaters, pressure cookers, or improved stoves significantly reduce firewood consumption (at least by 3 tons/year/family), mitigating CO2 emissions and indoor pollution, and improving comfort and sanitation. The reforestation component will help to reverse climate change impacts in an area that has suffered from an acceleration of desertification due to deforestation.
Gender impact: Little Earth focuses on empowering women as problem solvers and new technology experts and leaders. With extra hours gained during the day, on chores like gathering wood, and in the evenings, thanks to solar lanterns, women can pursue new sources of income such as embroidery or knitting. Children can study and stay in school. With additional income, beneficiaries can diversify and improve family diets, ensuring food security and better nutrition. Women are seen as valuable contributors in the communities, changing social dynamics for the better.
Scalability: Promoting affordable, low-tech and adapted renewable energy technologies to isolated, off-grid communities that are severely impacted by climate change is a model that can be replicated in many similar regions. Little Earth partners with another NGO and with local authorities. They would like to extend this initiative throughout the Bartang Valley and in other mountainous areas of Tajikistan, where patriarchal structures prevent change. Empowering women as problem solvers and leaders in their communities transforms the social dynamics and paves the way for stronger resilience.