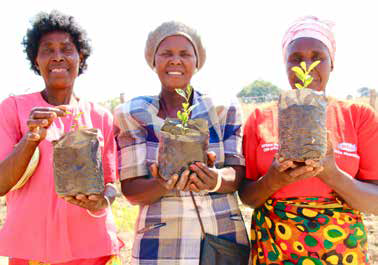 Description of the project: This project develops exemplary climate adaptation strategies in 4 communities of rural Zambia, working on women-farmers' appropriation of the challenges they are facing, and introducing new and diversified livelihoods. Today's main beneficiaries are 250 small-scale farming households, but further outreach to 33,000 people is planned, with a focus on women, youth and people living with disabilities. The project promotes sustainable innovations and climate-resilient practices that have been identified with and by the communities as the most appropriate, i.e., agroforestry, organic gardening and small livestock breeding.
Climate impact: 537 women have been trained on livestock breeding, leadership and project management. The project has improved the adaptive capacity of the farmer households to the adverse impacts of climate change. Their resilience to climate shocks is based on the diversification of income sources, thus reducing their dependency on rainfed agriculture. Further efforts, like planting over 35,780 trees of different species and the reduction of indiscriminate deforestation in the project areas, are contributing to mitigation.
Gender impact: The project empowers women by involving them in decision-making processes on access and management of natural resources, safeguarding their right to food, rural employment, a safe environment and climate justice. After several capacity building schemes, 86 women have developed the confidence to contest in various leadership positions in their respective communities. This in turn has increased the number of women-led proposals and initiatives.
Scalability / replicability: To ensure self-sufficiency, a Project Management Committee has been established. This body oversees sub-projects and the scaling-up of activities, which generates income for the maintenance of infrastructure and marketing mechanisms. In addition, special attention is drawn to the role of young people. Through the creation of environmental clubs in schools, information  can be easily passed on to other community members, creating a chain of information sharing.