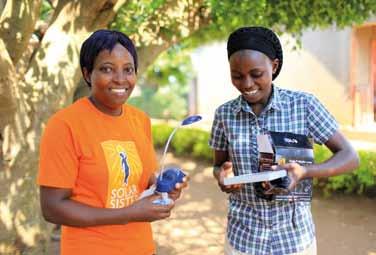 Description of the project: Solar Sister combines the breakthrough potential of clean energy technology with a deliberately woman-centered direct sales network to bring light, hope and opportunity to even the most remote communities. We train and support women to deliver clean energy directly to homes in rural African communities. We provide essential services and training that enable women entrepreneurs to build sustainable businesses in their own communities. Solar Sister eradicates energy poverty through empowering women with economic opportunity and we promote women's leadership to build a brighter future. Investing in women is not only the right thing to do, it is the smart thing to do. Solar Sister creates sustainable businesses, powered by smart investments in women entrepreneurs.
Climate Impact: Solar Sister is increasing access to solar and clean cooking technologies. Solar lamps replace kerosene, which produce toxic fumes, black carbon, and increase risk of burns. More efficient cook stoves reduce fuel use by 30-60%, resulting in fewer greenhouse gas and black carbon emissions and reducing impacts on forests, habitats, and biodiversity. Due to energy access provided by Solar Sister, families benefit from better health and economic stability thanks to use of clean cookstoves and solar light. Children have reliable, bright lighting to study by at night. Women in particular benefit from time savings thanks to increased lighting after dark and those who use solar lights report increased productivity after the sun sets. Families who switch to clean cookstoves significantly reduce time spent collecting wood, money spent on solid fuels, and smoke output, significantly improving the health of women and children.
Gender Impact: Solar Sister's model improves not only a woman's household income, but also health, education and a woman's status and control over resources. Income allows women to contribute to household earnings and gain confidence, financial independence, and respect from their families. Women entrepreneurs start to play a larger role in household decision-making. Training and ongoing mentoring equip entrepreneurs with important skills like financial management and technical product knowledge. As a result, women gain confidence and often serve as role models and change agents in their communities.
Scalability: Solar Sister has reached over 1.8 million people with clean energy and empowered over 5,000 independent women-owned clean energy businesses in Nigeria, Tanzania and Uganda.