10 November 2022
Sharm El-Sheikh, Egypt — Advocates from diverse constituencies gathered today from across civil society and climate justice groups at the middle of the COP27 venue to protest the many silenced voices at the climate negotiations.
"We are here today as feminists, as activists, and as members of different constituencies and civil society representatives to bring attention to the many, many silenced voices at this COP27," said Gina Cortes, Co-Focal Point for the Women and Gender Constituency. We are here wearing white and calling out the deep inequalities and deep injustices of this COP – the thousands of activists who should be here but are missing, the thousands of activists who should be here but have been oppressed for standing for human rights, for the closing space for civil society." 
"This space remains inaccessible to so many human rights defenders, and Indigenous, Afrodescendant, young, grassroots, frontline and feminist activists – especially those trying to come from the Global South to advocate for their communities, the oceans, the land, peoples. It is unacceptable."
Activists stood with white cloth over their mouths, and took turns reading quotes to uplift environmental and human rights defenders in all their diversity.
Patricia Wattimena, Climate Justice Programme Officer at Asia Pacific Forum on Women, Law and Development, read a quote by Kartika Sari: "Women's human rights defenders are experiencing shrinking spaces to speak out not only at COP27 but everywhere. The very places where feminists' voices are needed the most. We have been intimidated and terrorized. But we are not yet defeated! We will continue to grow stronger pushing back false solutions and market driven climate actions. We will continue to push for community and women led climate actions. Women have solutions! Women united will never be defeated!" 
Member of APWLD and Climate Watch Thailand Executive Director Wanun Permpibul shared a quote from a woman farmer: "Peasant women are environmental human rights defenders. Together with these women, I am bringing the voices from the communities who are fighting against climate impacts and policy measures that are not prioritizing them; against all the false solutions that will continue worsening the climate crisis and violating their rights; and against the injustices in climate actions. Women defending their rights must be recognised, protected and promoted." 
Activists also honored human rights, women's rights and environmental defenders who have lost their lives in the process of working towards more just futures. Cortes read out a list of more than one hundred names of murdered women's rights and environmental defenders, and held a moment of silence in their honor.
"This is how power is operating on this planet, as the polluters loot the Earth, rape the Earth and other peoples' bodies – but we will not let them do it quietly," said Dipti Bhatnagar of Friends of the Earth International. "This is about 500 years of genocide and colonialism and slavery, and none of our ancestors went down without fighting."
"As a former political prisoner who worked to support and free women, we must get familiar with including prisons and jailing systems as part of our analysis of speaking about extreme extraction," said Siwatu Salama Ra of Grassroots Global Justice Alliance. " Those who profit off of the fossil fuel industry profit off of the imprisonment of our communities. And we call for climate reparations and that human rights be restored right now."
What we know is that police terrorism, criminalization, incarceration is not about public safety. I know this as a formerly incarcerated person," said George Galvis and from It Takes Root. "I stand in solidarity with all those behind the walls – free them all!"
I'm speaking on behalf of women environmental human rights defenders in our countries and our region in Asia and the Pacific. It is so hard to come here [to COP], and I'm speaking here to bring their voices," said Ana Gabriela Celestial, of APWLD and Asia Pacific Network of Environment Defenders. "And back home we are being harassed, silenced, criminalized because of our defense of our homes, our livelihoods, our environment. Even in the halls of COP27, they are afraid when we speak truth to power about false solutions and greenwashing schemes."
"Soy defensora de derechos humanos, de la sierra, del agua, de la vida," dijo Martha Alfonso de Comité Ambiental En Defensa de La Vida y Red-DESC. "Hemos sido criminalizad@s por levantarnos las voces, por defender los derechos humanos. Que levantar la voz no sea una razón para encarcelarlos."
[I'm a human rights defender: of the sierra, of water, of life," said Martha Alfonso of Comité Ambiental En Defensa de La Vida y Red-DESC. "We have been criminalized for raising our voices in defense of human rights. May raising one's voice not be a reason for imprisonment!]

"My father worked for farmers. My father fought for the rights of the land and human rights. My father is a desaparecido, a victim of enforced disappearance," said Alab Ayroso from Youth Advocates for Climate Action Philippines. "This story is not just my own: my country is the deadliest country to be an environmental country in Asia for 10 straight years."
"Women human rights defenders who have decided to stand up for justice have been beaten, stripped naked, and put in jail. We are here today to bring up the voices of women human rights defenders from our various communities," said Radiatu HS Kahnplaye from the National Women's Resource Platform. "We continue to experience this because we have corporate capture in our countries and we are not free to speak. Today I am here to say that COP27must deliver on the future of work for human rights defenders where we are in space, we are able to stand up and fight so that our voices are heard…that all of the killings, all of the arrests, the reprisals and others, there can be justice for that." 
Cortes concluded with: We say again, we stand with all human rights and environmental defenders! We cannot forget these many, many silenced voices. We hope you'll join us in uplifting silenced voices at COP27, whose presence is crucial in not only denouncing false solutions, but also building the radically just present and futures we need for both people and planet.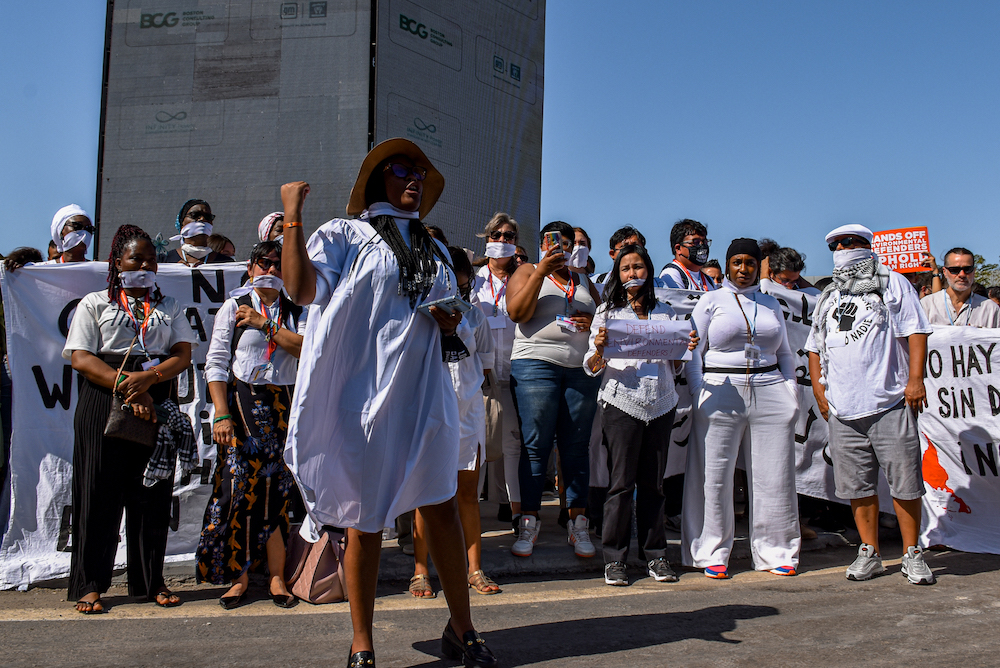 View more photos of the event here: https://drive.google.com/drive/folders/1Fsi2LyyUQYosyC-vm7U-X1etTGvcuYa1 (All photos by Gerimara Manuel, APWLD)
For more information contact Lindsay Bigda: lindsay@wedo.org | +1 207-385-7924
###
About The Women and Gender Constituency:
The Women & Gender Constituency (WGC) is one of the nine stakeholder groups of the United Nations Framework Convention on Climate Change (UNFCCC). Established in 2009, the WGC now consists of 29 women's and environmental civil society organizations, who are working to ensure that women's voices and their rights are embedded in all processes and results of the UNFCCC framework, for a sustainable and just future, so that gender equality and women's human rights are central to the ongoing discussions. As the WGC represents the voices of hundreds and thousands of people across the globe, members of the Constituency are present at each UNFCCC meeting and intersessional alongside the UNFCCC Secretariat, governments, civil society observers and other stakeholders to ensure that women's rights and gender justice are core elements of the UNFCCC. In this action the constituency is joined by other stakeholders committed to advancing women's human rights, peace and climate justice. https://womengenderclimate.org