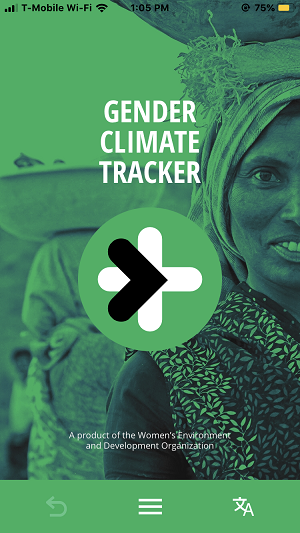 Description of the project
The Gender Climate Tracker (GCT) platform is an online app and website designed to provide policymakers and advocates with data and information related to both the process and outcomes of the United Nations Framework Convention on Climate Change (UNFCCC) negotiations. With a rich, country-level dataset on women's participation as delegates and heads of delegations, a catalog of each gender mandate decided within the UNFCCC negotiations, and gender analyses of the initial Nationally Determined Contributions (NDCs), this resource provides a landing site for understanding, tracking, and analyzing the effective implementation of gender-responsive climate policy.
Climate impact
The GCT enables climate negotiators and observers to seek and identify information for their advocacy. Women's participation and leadership, contributes to better environmental outcomes. Previous decisions are critical to shaping new negotiation text: having mandates searchable at the click of a button can strengthen gender-responsive measures within the UNFCCC. Country-level planning and practice is a key feature of the effectiveness of these negotiations, monitoring gender and inclusivity within the NDCs can only contribute to the effectiveness of their implementation.
Gender impact
The GCT provides data and information to track and analyze gender-responsive policymaking; foster accountability to principles of gender justice, women's rights, and inclusivity; and enable accurate and targeted advocacy. The platform brings visibility to gender and climate issues, collates complex information with clarity and interactive features, and offers a space for policymakers and civil society to contribute relevant country-level resources, thereby catalyzing additional attention and effort toward gender-responsive climate policy and practice.
Scalability
The platform is expanding in terms of features and followers, creating and housing additional resources for civil society and policymakers to understand, track, and analyze gender within related environmental spaces. More contributions will ensure these community-sourced catalogs to cultivate advocacy and accountability. Showcasing gender mandates across multilateral environmental agreements promotes cross-cutting approaches to gender-responsive policy, while continued analysis of gender within new NDCs will facilitate monitoring and accountability.